Buffalo State College Housing Assignments Ucsd
Akit
/
Fall semester is just around the corner – with only T minus 11 days til move in and the recent release of housing assignments, everyone is anxious to see the dorms they were placed in. (Yes, I'm looking at you, freshmen.) As a new upperclassman looking back, I wish I had a guide to tell me all the "in's" and "out's" of where I was living when I was a freshman! Here is the information you need for your housing assignments:
If you got NORTH:
Buildings: New Haven, Fairfield, Litchfield, Tolland, Baldwin, McConaughy, Hurley, Middlesex, Windham, New London and Hartford.
Dining Hall(s): North and Northwest
Nearest Grab N Go: Northwest
Virtual tour: https://www.flickr.com/photos/uconnstudentaffairs/27505213785/in/album-7...
Famously known as the "Jungle," North campus isn't the most ideal place to live. The dorms are older and not the most cleanly. The laundry machines are separate from the dorms, placed beneath the dining hall. This means that unless you live in Baldwin or McConaughy, you will be dragging your laundry up the hill. Due to the large amount of students living in this residential area, it is very loud and rowdy, hence its nickname. You will quickly find out that there are some crazy things at North Campus!
If you got NORTHWEST:
Buildings: Hanks, Goodyear, Batterson, Russell, Terry and Rogers
Dining Hall(s): Northwest and North
Nearest Grab N Go: Northwest
Virtual tour: https://www.flickr.com/photos/uconnstudentaffairs/27470624546/in/album-7...
Northwest is considered to be one of the nicer traditional dorms on campus, however, it has the smallest rooms. I lived in Northwest for my sophomore year, and absolutely loved it. The sense of community you feel here is very much alive and I made some of my greatest friends here! Like North, it is also close to places such as the Union and the gym. For STEM majors, Northwest is convenient because the science buildings are right across the street.
If you got ALUMNI:
Buildings: Watson, Eddy, Brock, Belden
Dining Hall(s): South and McMahon
Nearest Grab N Go: South
Virtual tour: https://www.flickr.com/photos/uconnstudentaffairs/27905515136/in/album-7...
Alumni is one of the bigger freshman dorms (and has the largest closets) of the traditional dorms. It is very central to campus, being only a five-minute walk from the gym, library, bookstore and the Union. It is also close to Storrs center, which gives you options for things to do in your free time. If you are a STEM major, you might want to catch the bus to class, since most science buildings, such as TLS, MSB or the Chemistry building are on the complete opposite side of campus. No worries though – Alumni is a bus stop for multiple bus routes.
If you got WEST:
Buildings: Shakespeare, Troy, Alsop A, Alsop B, Chandler, Lancaster, Hollister
Dining Hall(s): McMahon and South
Nearest Grab N Go: South
Virtual tour: https://www.flickr.com/photos/uconnstudentaffairs/27905520106/in/album-7...
West is another residence hall area that is very central to campus. The dorms are generally small, very similar to Towers. It is notorious for having a horrible bathroom setup but fortunately, they were recently renovated. It's another residence hall on campus that is not the greatest place to live as the rooms are "falling apart", but students do make the most out of it. Heads up: there aren't any elevators. 
If you got HILLTOP:
Buildings: Hale and Ellsworth
Dining Hall(s): Putnam
Nearest Grab N Go: N/A
Virtual tour: https://www.flickr.com/photos/uconnstudentaffairs/27838109802/in/album-7...
First year students that are usually placed here are freshman athletes since the dorms are closer to sports facilities. Hilltop is similar to Alumni in that they are decently sized and the buildings are in good shape. It seems to have a good sense of community, especially with NextGen and Garrigus Suites in the surrounding areas. The recently renovated Putnam Dining Hall is right next door.
If you got BUCKLEY/SHIPPEE:
Buildings: N/A
Dining Hall(s): Buckley
Nearest Grab N Go: South
Virtual tour: Buckley - https://www.flickr.com/photos/uconnstudentaffairs/27723332250/in/album-72157670358863705/
Shippee - https://www.flickr.com/photos/uconnstudentaffairs/27470698846/in/album-7...
Those within the UConn Honors Program will usually find themselves assigned in Buckley or Shippee. While their locations are known to be far from the center of campus, there is the perk of living right next Storrs Center. Students who live in these halls actually don't mind the the distance too much - you are a few seconds away from the scenic mirror lake and just down the street from Horsebarn Hill, which is fun for sledding in the winters. Buckley dining hall is within the residential building which is nice, however, students find themselves going to South eventually, since it is a better dining hall. 
If you got EAST:
Buildings: Sprague, Whitney, Holcomb, Grange and Hicks
Dining Hall(s): Whitney
Nearest Grab N Go: Towers
Virtual tour: https://www.flickr.com/photos/uconnstudentaffairs/27432965181/in/album-7...
Generally, there have been mixed reviews about East. While some regard it as one of the worst places to live on campus, others have recognized its charm. The area is generally very quiet and students emphasize that living in East is not the typical college dorm experience, especially for freshmen. The dining hall is also thought to be a hit or miss. A tip if you will be living here: if you aren't a fan of the quiet nature of the buildings, don't be afraid to reach out and become involved in other ways!
If you got TOWERS:
Buildings: Colt, Jefferson, Allen, Beecher, Fenwick, Hamilton, Keller, Kingston, Lafayette, Morgan, Sherman, Trumbull, Vinton
Dining Hall(s): Towers
Nearest Grab N Go: Towers
Virtual tour: https://www.flickr.com/photos/uconnstudentaffairs/27228437380/in/album-72157669089414911/
(Note: The room shown here is a corner room, not a regular sized dorm.)
To be completely honest, Towers is basically in the Appalachian Mountains. Yes, when they say its far – its far. On the bright side, I never needed to go to the gym because my workout came from walking up the hill at least seven times a day (For those of you were assigned to Kingston, I am sending you prayers.) You can always reward yourself for completing the hike by going to the Dairy Bar (only 5 minutes away) or the Quesadilla Bar at the dining hall. This residential area is freshmen-only and students love the sense of community that creates. As one resident said, "People are so much more willing to reach out and be friendly because everyone is in the same boat. I always saw friendly faces around Towers, it felt very much like home."
If you got NEXTGEN:
Buildings: N/A
Dining Hall(s): Putnam
Nearest Grab N Go: N/A 
Virutal tour: https://www.flickr.com/photos/uconnstudentaffairs/28452162243/in/album-7...
NextGen is the newest residential hall on campus. It is home to many learning communities, such as WISE, EcoHouse, Engineering house, ScHOLA2RS and more. It has multiple large study lounges, a collaboration center, and the dorms are spacious and have self controlled AC - every student's dream. 
If you got MCMAHON:
Buildings: N/A Dining Hall(s): McMahon
Nearest Grab N Go: South
Virtual tour: https://www.flickr.com/photos/uconnstudentaffairs/sets/72157670265729646
You may remember McMahon as the place you stayed during summer orientation. The rooms are very small (unless you were lucky enough to get corner room) and the dining hall is within the same dorm building, which is super convenient especially during the winter. Students have said that because it is a small residential area it is easier to get to know people, however, it is harder to meet other freshmen – it is primarily an upperclassman area.
Some other housing resources that may be helpful: 
UConn Tumblr - It has pictures of dorms from every residential area on campus! It's great for giving you a sense of what your dorm may look like. http://uconnthings.tumblr.com/dorms
Life Hacks for Move In Day - Check out my other article for ways to make move in day less of a hassle. https://www.hercampus.com/school/u-conn/7-life-hacks-uconns-move-day
Excited to move in to your new home? Tweet us at @UConnHC and tell us your thoughts!
Header Source
If you watch HBO's hit show, Game of Thrones, I'm sure you'll agree that the people of Westeros (and Essos, of course) have it way rougher than we do. I mean, college is hard - but at least we don't have to deal with a sadistic writer (we're looking at you, George R. R. Martin) who controls our fate. We don't have to necessarily worry about being poisoned, beheaded, or burnt to a crisp. But it would still be awesome to fly up to class on a dragon (yeah, just try to give me a parking ticket). It's fun to pretend, isn't it? But just...you know, maybe don't bring your limited edition model of Ned's greatsword Ice to class. Leave that at home; the white walkers aren't here. Winter isn't here. Yet.
Cue the theme song.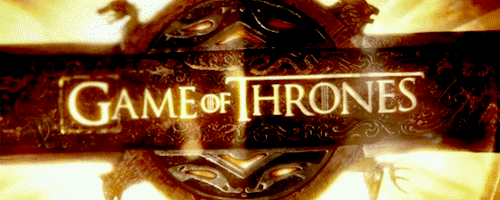 Let's talk about the issues we do face. 
1.) Parking. All of you commuters out there will appreciate this. Parking is never easy - in fact, it's always hard. Almost as hard as...raising three dragons? Maybe. Not really. But it certainly feels that way.
2.) Getting to class. So, you're in college now - technicallly, you don't have to go to class. But remember, you do pay to be there: you should be going to class. And you know what we all feel like trying to get to class after Bengal Pause lets out? It's kind of...well, it kind of feels like this:
3.) Dealing with a hangover. So, you went on a Thursday night bender, huh? Feeling a little like Tyrion Lannister? You drag yourself out of bed and shuffle to class; you do your best to stay postivie, but let's be honest: the world is dark and full of terrors, isn't it?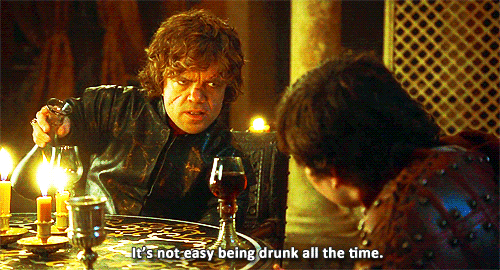 4.) Affording...anything. You're broke. We get it. We are, too. We're definitely not as rich as the Lannisters, but we have the valor and honor of the Starks...right?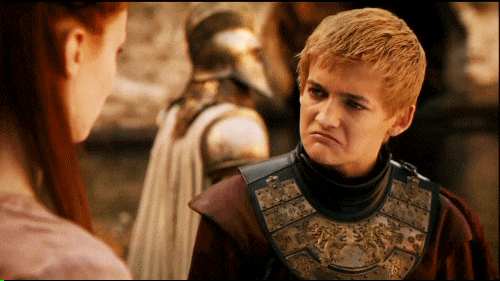 5.) Dealing with other people. It's college, you're constantly surrounded by people. Know how we all have our "unassigned-assigned seats"? There's always that one anarchist who trifles with the system. And this is exactly how they'll look at you (let's just hope they're not actually Ramsay Snow):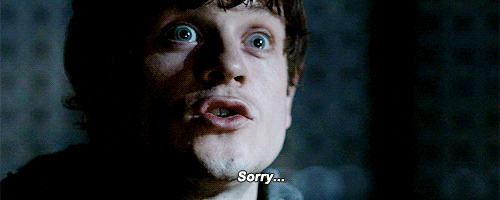 6.) Buying food on campus. You were hungry, but you caved. You told yourself you needed food...but now, looking at it, you're kind of regretting getting Subway for like...what? The seventeenth time this semester?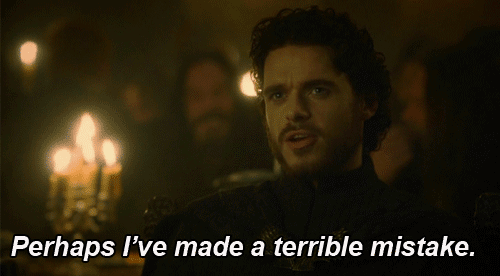 7.) Exams. Quizzes, tests, essays...they're all the same. They leave you tired, miserable, and anxious. But your professors are up there, smugly reminding you that:
(We have the sneaking suspicion that our professors would actually kind of like Littlefinger. Ew.)
8.) Sports. We have a lot of atheletes on campus. And they take their games very seriously - as they should. But what if a rival team showed up to sneak a peak at one of your practices? Well, you wouldn't like that very much - take Ned Stark's advice, and lay low. Save the showing off for when it counts.
9.) Midterms. We've already mentioned exams in general, but let's talk about midterms. Midterms are a special kind of torture. Sure, they mean you're about halfway through the semester - but then again, it's only half over?
10.) Parking. No, this isn't a mistake. We've already mentioned parking - but it's bad enough sometimes on campus that it deserves two places on our list. Ever see two people fighting over a spot? They say the honking is louder than the Horn of Winter.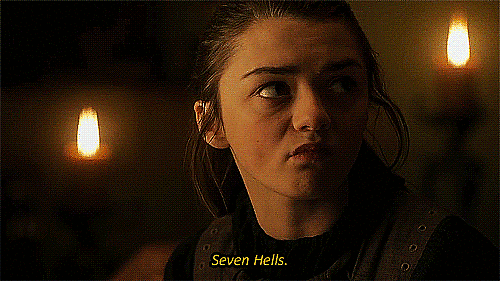 11.) Professors. We love some and can't stand others. But they all assign homework and give out exams. Why? To - for the most part - prepare us for the future. Do we lose sleep because we're constantly studying? Do have empty pockets from buying a dozen expensive textbooks? Yep. But it's for our own good...right?
12.) Burning out. We've all been there. You're drowning in so much work that you just stop functioning. Somebody might remind you that you've have an assignment due tomorrow, and you're just like:
13.) Monday mornings. We'll just leave this one here.
14.) Winter is coming. And we live in Buffalo - so you know winter is coming, and it's coming quickly. Brace yourselves.