Magic Johnson Research Papers
JoJogor
/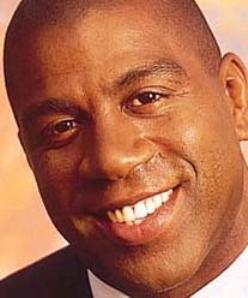 Earvin 'Magic' Johnson
http://www.yehey.com/local/entertainment/
images/MagicJohnson01.JPG
Earvin "Magic" Johnson, the bestselling author of My Life, is universally known for his illustrious 13-year career with the Los Angeles Lakers, where this "big player with the big heart" changed the way the game is played. He has brought that same hard work, dedication and generosity to his life as a businessman and philanthropist -- with equally magic results.
On the court, Johnson is unrivaled. His physical domination, unselfish no-look passes, and ability to assist and steal were apparent from his first games in Lansing, Michigan, where he first earned his nickname. The tallest point guard in NBA history, he led five teams to the championships, was a 12-time All-Star, and won a gold medal with the original Dream Team at the 1992 Olympics in Barcelona. In 2002, the player that his friend and fellow great Larry Bird called "head and shoulders above everybody else" was inducted into the Naismith Memorial Basketball Hall of Fame.
In 1991, Johnson made an announcement that stunned the world. He had tested positive for HIV, and would retire immediately on doctor's orders. But Johnson wasn't done yet – either on or off the court. He went on a triumphant appearance at the All-Star Game that season, earning the game's MVP Award and leading the West to a 153-113 victory. The game ended with 14 seconds to go as the other All-Stars, including Isiah Thomas and Michael Jordan, abandoned the ball and swarmed Magic to show their ongoing love and support. As he says in My Life, "Game called on account of hugs." A 1995 comeback made it clear that his retirement from basketball, like everything else in Earvin Johnson's life, would take place only on his terms.
The basketball career of the century would have been more than enough for most people, but Johnson seized his retirement as an opportunity to pursue his childhood dream of becoming a successful businessman. It is this second act that led Fortune Magazine to vote him one of their Most Powerful Black Executives. In 1991, Johnson founded a development company to bring entertainment and services to underserved inner-city communities. These ventures, which include housing, fitness centers, movie theatres, restaurants, and coffee shops, in neighborhoods previously characterized by blight and crime, have confounded expectations. Not only are these viable businesses – top grossers in their chains, in some cases -- but they have become vital, integrated community centers, critical players in the revitalization of these long-neglected neighborhoods.
Furthermore, Johnson's company creates a legacy of success for the minority community by acting as a breeding ground for the next generation of black executives -- presidents, vice-presidents, managers, and business owners. Every success story proves his belief that anyone and everyone can achieve if they're given the opportunity and the skills.
Johnson isn't new to philanthropy – he has always been generous with his time, money, and his celebrity. Immediately after his diagnosis with HIV in 1991, he founded the Magic Johnson Foundation for AIDS education, prevention and research. The Foundation has raised hundreds of millions of dollars to build state-of-the-art clinics and provide grants to community-based organizations, especially those that focus on health initiatives for youth, women, and people of color. Johnson also wrote What You Can Do To Avoid AIDS, a book explaining and promoting safe sex. Perhaps most importantly, he became the unofficial spokesperson for people living with HIV/AIDS, giving a human face to the disease and significantly lifting the stigma and discrimination that too often accompanies it.
In 1997, the Magic Johnson Foundation further broadened its focus "to identify and support community-based organizations that address the education, health, and social needs of children, young adults, and inner-city communities throughout the nation." It now gives scholarships, organizes mentoring and internship programs, as well as sponsoring job and health fairs. The Magic Johnson Foundation is also working to close the digital divide by building technology centers that give people in low-income areas access to technology. Most recently, the Foundation partnered with drugstores and supermarkets to fill prescriptions and provide groceries for people evacuated from Hurricane Katrina, and Johnson has pledged to find jobs for many of the displaced.
Along with his business and philanthropic concerns, Johnson is a devoted husband to his wife Cookie, and an active and involved father to his three children, Andre, Earvin Jr., and Elisa, and he continues to credit his parents with his success. As an athlete, he was known for his effortless leadership, optimistic attitude, balance, and tireless dedication; he has brought these same qualities to his vocations as a businessman, philanthropist, husband, son, and father, and it is a great honor for us that this legend has agreed to participate in the My Hero Project.
Page created on 11/24/2007 3:18:36 PM
Last edited 1/4/2017 10:33:41 PM

Extra Info
Here are some entries from our guests
about their hero, Earvin "Magic" Johnson:
Jacque from Leawood, KS wrote:
On and off the court, Magic Johnson has been a hero throughout his life, and has excelled in everything that he has put his mind to: whether it be basketball, school, or helping out others.
Arevig Gevrkian from Studio City, CA wrote:
Magic Johnson is my hero because he was a unique athlete who changed the sport of basketball. Magic later found out he had the deadly disease known as AIDS, and now he raises funds for HIV/AIDS education and prevention.Kaikane from Pukalani, HI wrote:
Earvin "Magic" Johnson is a man that deserves respect both on and off the basketball court. He was a leader both to his teammates and the fans that admired him. Most can only wish that they could watch Magic play and dominate his opponents with his superb passing skills and abilities to play both offense and defense. He defied many odds through his battle with HIV while still being able to have an unforgettable career along with well-deserved accomplishments that he can be proud of. Magic Johnson, in my eyes, is definitely one of the greatest basketball players the game has ever seen.
Nicholas Ward from Brooklyn Park, MN:
Magic is a good man and a role model. He is a great basketball player. He thinks about other people more than himself. He is a survivor, because he had AIDS for a long time and he is still surviving with it. Magic is also a hero: he talked to younger children about his problem with AIDS and he told them to try not to get it.Cody Mounts from Wheatfield, IN wrote:
Magic Johnson is my hero because he was devoted to basketball, like I am. He could have gone to the NBA after high school but he decided to go to college. It was a hard choice but he went to Michigan State. After two years of college he decided to go to the NBA. There will never be another like him. Daniel from San Jose, CA wrote:
Magic Johnson is my hero because he has done various good things to help the needy... those who are in need financially or emotionally. Even though he has the HIV virus I think he is so strong. He has organized so many organizations that help kids with the AIDS virus. Angel from Austin, TX wrote:
Magic Johnson is my hero because he is a very good basketball player and also a very good man! Robbie from Cheyenne, WY wrote:
Magic Johnson inspires us all because of his great deeds. He has already donated thousands of dollars to the victims of Katrina. Magic Johnson is a great hero and I would like to be like this hero any day. I hope that I will be like this hero when I grow up.
Frank from Omaha, NE wrote:
Magic Johnson's heroic qualities have affected my life today by showing me that hard work and determination lead to happiness, and that despite whatever happens, one should never give up.
Magic Johnson Foundation, Inc.
9100 Wilshire Blvd. Ste 700 East
Beverly Hills, CA 90212
Office: 310.246.4400
Fax: 310-246-1106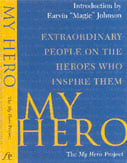 Earvin "Magic" Johnson contributed his hero story to
MY HERO: Extraordinary People on the Heroes Who Inspire Them
. Your purchase of this book helps to support this not for profit educational web project.
Earvin "Magic" Johnson isn't the reflective type. He tends not to dwell on the past or even second-guess the decision he made 10 minutes ago. So when asked if he often thinks about that chilly November morning in 1991 when he stood onstage at the Great Western Forum in Los Angeles and announced to the world that he'd contracted HIV, the former point guard flashes his signature smile and shakes his head: no. "I don't look back that much at all, and I don't spend a lot of time on regrets," says Johnson. "I do regret putting my family and my wife, Cookie, through that entire experience and having to deal with certain things. But that's really the only regret I have."
Instead, the basketball legend turned business executive keeps his mind focused on one, profound thought: living. To the fame he earned as a Los Angeles Laker has been added the triumph of the survivor who beat the odds, and it may be the greater legacy of the two.
Up at 4 a.m. each workday, Johnson jogs five miles to his office in Beverly Hills, where he oversees Magic Johnson Enterprises, which operates movie theaters, Starbucks stores, and other businesses in long-neglected urban neighborhoods. Meanwhile, he's actively involved in his namesake foundation's efforts around HIV/AIDS and education, and works closely with the Obama administration on community-development issues. And when he finally gets home from the office after a brisk walk, he takes more business calls until 9p.m.
And that's Johnson dialed back. "For a long time, I'd work until 10 or 11," until his wife laid down the law, he says. "When I work, I'm on. I'm 'Magic.' I love it, but it takes a lot out of me."
It's a pace that would challenge almost any 51-year-old—let alone someone who's spent every day for the past 20 years contending with HIV. "I'll hear people say every so often that having HIV must not be so bad—just look at Magic and how well he's doing," says Johnson, who has remained AIDS-free. "I'm blessed that the medicine I take really worked well with my body and makeup. It doesn't work like that for everyone. A lot of people haven't been as fortunate as I have."
It was June 5, 1981, when the U.S. Centers for Disease Control issued a report about a strange and lethal pneumonia discovered in five gay men in Los Angeles. By the time Johnson was diagnosed with HIV as part of a routine NBA preseason physical, more Americans had died of AIDS than in all the conflicts after World War II. With fatalities rising each year and few therapies on hand to fight the disease, the question in 1991 wasn't whether those infected with the virus could live full and productive lives but rather how long it would be before they died. Along the way, a cascade of opportunistic infections mottled the sufferers' skin with strange purple lesions, covered their lungs in a yeastlike fungus, and left them looking like the walking dead of Birkenau.
"I was never going to run from this… This happened for a reason, and I know it was to help someone else."
Facing this prospect, and surrounded by Los Angeles Lakers team owner Jerry Buss, former Lakers star Kareem Abdul Jabbar, and NBA commissioner David Stern, Johnson appeared calm, even confident that morning in 1991. For those 15 excruciating minutes in front of the TV cameras, he put on his best game face. "I was never going to run and hide from this—I couldn't," he says. And yet, in walking off the stage he was walking away, at 32, from an astonishing career and driving passion and into the frightening unknown. What were his chances, and what would become of his young family?
Gallery: Magic Johnson: A Career in Pictures
Also in This Issue:• Attack of the Sequels by Roger Ebert• The Princess and the Terminator by Susan Cheever• America's Scandinavian Thriller Obsession by Bryan CurtisOnly months earlier, Johnson had married Earlitha "Cookie" Kelly, and she was now two months pregnant. An immediate concern was her health and the health of their unborn child (neither was infected). Beyond that was the indelicate question of how Johnson had contracted the virus (ultimately, he explained that he'd had sexual encounters with multiple female partners in the 1980s).
Initially, Cookie Johnson tried to talk her husband out of immediately going public with the news. "As soon as he found out he had HIV, he was ready to tell the world," she recalls. "I was afraid of what people would say, how people would treat us, and what it would mean—because we didn't know what it meant at that point. I just wanted him to wait."
At the time, AIDS was still widely perceived as targeting only the gay community, despite the fact that women, children, the elderly—and heterosexual men—were also at risk. People were still reluctant to admit to having the disease. The iconic African-American choreographer Alvin Ailey, who succumbed to AIDS in 1989, asked his doctors to announce that he'd died of a blood disease. The tennis legend Arthur Ashe, who contracted the virus via a blood transfusion in 1988, didn't announce he had AIDS until shortly before his death five years later.
But Johnson was determined to fight his battle out in the open. "This happened to me for a reason, and I know it was for me to help someone else" is how he puts it now.
While Johnson worked to raise public consciousness from Los Angeles, Andre, his 10-year-old son from a previous relationship, struggled to deal with the fallout from Lansing, Mich., where he lived with his mother. After the surprising announcement, Andre—who is now 30 and works for his father—recalls enduring hurtful remarks from fellow elementary-school children and their parents.
"My dad told me not to worry about him and not to worry about what people said. He knew that so many people didn't understand HIV or AIDS and that kids can be cruel."
Adults can be cruel, too: when Johnson returned to the hardwood with his doctors' approval in 1992, he experienced the ostracism that so many HIV-positive people encountered. Some of his teammates publicly contested his presence out of fear they could be infected if he were injured and bled during a game.
"I would say hands down, the first five years were the most difficult for me," he says. "That was before advances in medicine, and I was still struggling with my career. It wasn't the way I wanted things to go. It took me a while to figure out I needed closure to get unstuck. I was just stuck," he continues. "There were those moments when thoughts came like 'What if I don't make it?' But they were fleeting, or at least I tried to make them that way. I couldn't let myself stay there for long."
As Johnson fought his doubts, his doctors battled the killer that had infected him. Dr. David Ho had begun experimenting with a promising new weapon: a cocktail of antiretroviral medications that seemed to keep HIV in check and prevent patients from developing full-blown AIDS. And so, in 1994—about a year and a half before the new drug regimen was introduced to the general public—Ho put Johnson on it. "Since we pioneered that therapy, we were able to include Mr. Johnson early, and it made a major difference in his health and overall being," says Ho from his offices at the Aaron Diamond AIDS Research Center in New York. "In the beginning there were many pills he had to take several times a day. That's changed a great deal now, so he doesn't take but a few, and with fewer side effects." Johnson's drug regimen includes the pharmaceuticals Trizivir and Kaletra.
Ho says most of his conversations with Johnson these days are to make sure his patient is taking his medicine at the same time each day—a must for anyone with HIV. "That's the challenge for Mr. Johnson because he is such a busy man all the time," says Ho. "We work a lot on making that easier for him, but he understands how key the medicine is to his well-being. He's the poster child of success for living with HIV, because he understands what it takes to fight this virus, and he does it."
It troubles Johnson that 30 years into this epidemic, the battle against HIV is nowhere near ending. AIDS has claimed some 25 million lives worldwide, and more than 33 million people are living with HIV. In the United States, the incidence of HIV and AIDS cases in the African-American community has increased in recent years. Women account for about 25 percent of new HIV/AIDS cases in the U.S.; of those, two out of three are African-American women. In 2006, the rate of HIV infections for black women was 15 times as high as that for white women and four times as high as for Latina women. The majority of infected women reported contracting the virus through unprotected sex.
"Those numbers really break my heart," says Johnson. "Because there is no reason for it."
He points out that "the gay community has done such a great job of getting their message across, and it's worked, But there is still such a stigma with the virus in our community, and that prevents any progress, because we won't talk about it with our kids or our families. What can change without talking? That's what I'm fighting to change with the foundation."
By contrast, Magic recalls how his family, most of whom still live in Michigan, handled the news of his illness 20 years ago. "My mom hung up the phone with me and got on a plane to come out here, my dad got on a plane, my brothers and sisters got on a plane to come be with me. My aunts, my cousins—they all were getting on a plane. That's love, that's support, and that makes a world of difference in how well you fight the virus. I know that's a large part of why I'm still here today."
For a man who doesn't spend a lot of time on reflection, Johnson seems a bit overwhelmed as he considers the enormity of what he's accomplished: he has shown the world what it means to live—fully—with HIV. "My son Andre, his wife and baby girl were over to the house on Easter," he says, his smile now widening as he recalls the day. "It was such a special moment, to be able to hold and play with my granddaughter and see my son actually become this great husband and father. Man, you don't know—I had to stop myself from tearing up, because who knew? Who really knew?"
Allison Samuels is a senior writer at Newsweek. Her work has also appeared in Rolling Stone, O, Essence and Vibe magazines. She's also the author of Christmas Soul , published by Disney/Jump At the Sun, and Off The Record , (Harper Collins/Amistad).
Thank You!
You are now subscribed to the Daily Digest and Cheat Sheet. We will not share your email with anyone for any reason.